DVDFab Commentaires

"It boasts stellar built-in decryption and its converted videos are near perfect."
Top Ten Review - DVDFab Blu-ray Copy

"DVDFab has a built-in CSS decyptor (which we love), supports multiple languages, removes region codes, retains or omits bonus material, restores defective or scratched DVDs and supports most configurations."
Top Ten Review - DVDFab DVD Copy

"DVDFab is an all-in-one DVD ripping/decrypting/burning software. In just one or two steps, you can copy DVDs to DVDR/PSP and even iPod. For such a powerful package, it only requires 14MB of your harddrive, so it's not bulky like similar packages."
Softonic Review - DVDFab HD Decrypter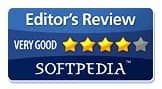 "The application is actually a driver that comes into play as soon as a DVD or Blu-ray disc is inserted in the drive. It removes the protection of encrypted media on the fly, showing the progress of the analysis in the lower right part of the desktop. When this is complete you can start your DVD or Blu-ray copying software to duplicate the content."
Top Ten Review - DVDFab DVD Copy